| | |
| --- | --- |
| | Magnetic Lifting |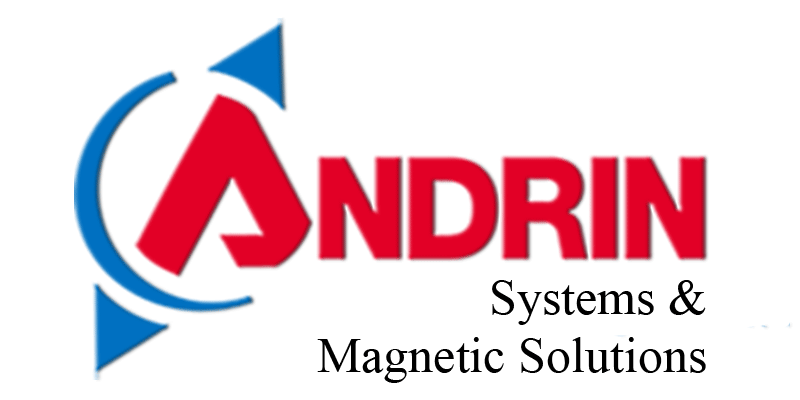 lifting magnets
Magnetic and electromagnetic lifting equipment combines force, durability, reliability, productivity and safety, enriched by numerous undertakings linked to experience gained in all the big traditional sectors such as metallurgy, the steel industry, ferrous recycling, shipyards and steelwork.
Andrin is earning itself a solid international reputation in the magnetic lifting field thanks to its experience ans numerous industrial references.
Why lift with magnets ?
Magnetic lifting equipment is very easy to use and has numerous outstanding aces. Bulk products or iron and steel products, during production or finished, are magnetically handled with no downtime, no people involved and no slings. Grabbing accuracy, metering, selectivity and thinning out precision allow automatic handling control and all this in total safety. It is also possible to make gain in storage area.
Moreover Andrin lifting magnets work in surroundings with very high load constraints capable of reaching temperatures of 650°C.
Our range of Round Electromagnets
Click on the image to see the product sheet
The CSAs and CGMA Rs are circular lifting electromagnets recommended for loading and unloading trucks and railroad cars, cleaning worksites, roads or railways, eliminating bulky ferrous materials or industrial remnants or steel and cast iron foundries.
Our patented CMPAF and CHPAF series are circular medium and highperformance electromagnets equipped with double concentric 3-pole coiling. Their sturdiness and sealness make them ideal for outside applications or uses in difficult conditions, such as scrap metal areas in electric steel plants and converters, truck and wagon loading and unloading at metal recycling plants or batching in the steel foundry.
Our range of Square Electromagnets
Click on the image to see the product sheet
Click on the image to see the product sheet
Click on the image to see the product sheet
stabs

¬

medium & heavy sheets

¬

lashed bundles with vertical web plates of beam blanks, HEA, HEB, UPN, UAP

¬

lashed bundles of standard sections

¬

wires coils

¬

Click to see the available videos.
RTAs are rectangular three-pole electromagnets with an aluminium winding. They are recommended for handling products with a flat surface such as slabs, ingots, metal sheets and beds of extruded section. Their robustness means they are ideal for intensive use in areas such as : continuous casting, hot and cold rolling mills, flame cutting workshops, steel distribution networks or shipyards.
lifting coils with horizontal or vetical axis

¬
TRAVELING CRANE
GANTRY CRANE

thin and medium sheets

¬

loading and unloading of flame cutting equipment

¬
The VM magnetic grippers are high-performance electromagnets equipped with a concentric winding. The VM electromagnets, which are designed to handle thin sheet metals, must be geometrically placed to limit bendings in all directions. Depending on sheetmetal sizes, the VM grippers will be installed therefore on fixed or telescopic lifting beams (oxyacetylene cutting workshops, shipbuilding yards, sheet-metal warehouses).
DERRICK
LIFTER
LIFT TRUCK

individual items

¬

loading machine tools

¬

loading machining centres

¬

cover handling

¬
Our RTB magnets consist of rectangular three-pole electromagnets with incorporated battery and charger. They are recommended for use in a workshop to handle metal parts in bulk or individually : parts for machining, loading of workstations, shipping, cleaning of machines. Thanks to their robustness and reliability, they are perfect for intense and daily applications (mechanical workshops, boiler making and body work, iron & steel dealer activities, cleaning and servicing).
Special Designs and Applications

CGMA R + MOBIL KIT

CGMA R + MUSHROOM

CGMA R + KGRA KIT

Click to enlarge the image.

CHPA R

RSARBF

RTA
Our range of Specific Magnetic Conveyors - Permanent Magnet and Electromagnetic
Click on the image to see the product sheet